Day 4 Race 5: One Race and Heated Battle for Title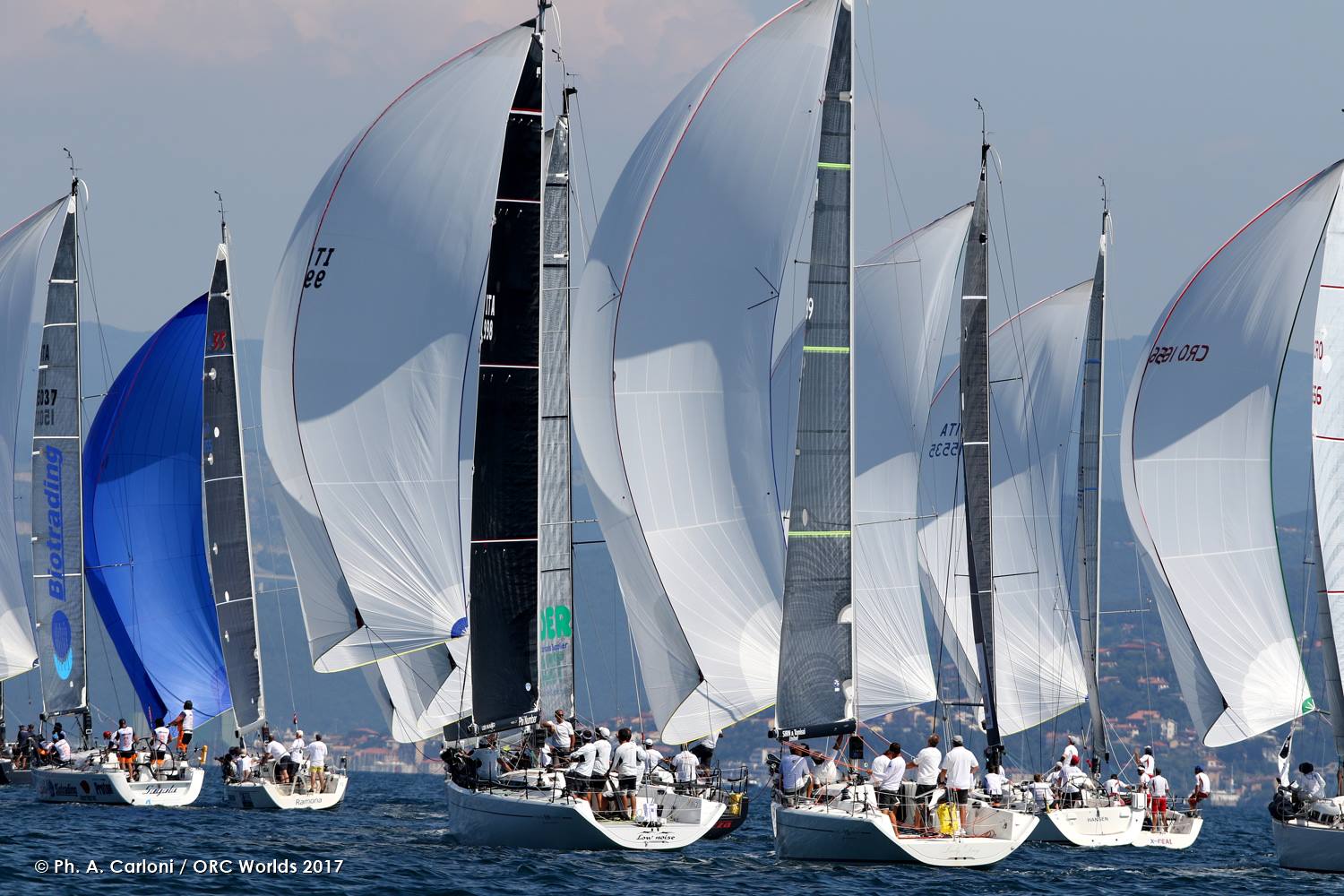 NEWS
06.07.2017
Porto San Rocco (Muggia – Trieste), July 5, 2017 – One race for the 116 boats registered for ORC Worlds Trieste 2017, the World Championship for offshore sailing currently underway in the Gulf of Trieste. Another day of light winds never exceeding 8 knots, but enough to create dueling boats from the beginning and bring some interesting changes to the provisional rankings in all three classes.
In class A, Sheraa Yacht Club Hannibal (Maurizio Poser's Swan 42) holds the lead and the Cookson 50 Mascolzone Latino helmed by Vincenzo Onorato surpasses Altair 3, Sandro Paniccia's Scuderia 50, by one point. In class B, Nube, Croatian owner Diego Zanco's X-41 maintains a solid lead, while Bewild, Renzo Grettesi's Swan 42 reaches place leaving behind Massimo De Campo's twin, Selene Alifax thanks to the tie break calculation.
In class C, Mummy One Lab Met (Alessio Querin's Farr 30 is still first, behind him Giacomo and Franco Loro Piana's Farr 30, Sease, and Estonians led by Aivar Tuulberg on Katariina II (Arcona 340) rise up to third place in the virtual podium. The easiest start in today's race was Class A, with 17 boats at the starting line. The first start is a good one and after three laps of the course with wind at 255° Vincenzo Onorato's Mascalzone Latino wins the race.
Class B has a slower start with three tries to tame the fleet and only the threat of more individual disqualificatoins for false starts gets all 49 competitors behind the starting line. Tactician Andrea Bewild with Swan 42, Bewild, breaks away earning the second victory of the day for this Championship.
For class C, the Racing Committee requires four starting precedures before finally reaching a valid start for the fleet of 50 boats. The race winner, for the second time in a row, is Roberto Monti's Melges 32, Airis.
Tomorrow's forecast calls for more weak wind conditions. For this reason, the Race Committe has postponed the start time to 1:00pm hoping for more consistent wind in the afternoon.
Quotes:
Niccolò Bianchi, tactician for Katariina II, "We ran the regatta of our lives and gained a significant advantage with an excellent start to the pin and keeping our opponents' comeback in check, even if they are faster in light wind conditions." Our boat performs well above 12 knots, so we are suffering quite a bit here. We are paying attention to the fact that by completing 7 races the worst result of the race for calculating rankings, ndr, is discarded, which will no doubt change things."
Cesare Bressan, Airis tactician: "Our presence at this World Championships is a challenge and the boat (Melges 32) is performing well, even if it is optimized for wind around 10 knots. It will be a tough battle to the end with the Mumm 30's. We are in a strange position: we have to constantly give everything we have to every moment of the regatta because the reward compels us to always win." GENERALI PROVISIONAL RANKINGS Class A
SHERAA (Swan 42), Maurizio Poser, ITA
MASCALZONE LATINO (Cookson 50), Vincenzo Onorato, ITA
ALTAIR 3 (Scuderia 50), Sandro Paniccia, ITA
FRECCIA ROSSA (TP52), Vadim Yakimenko, RUS
AERONAUTICA MILITARE DUENDE (Vismara 46), Raffaele Giannetti, ITA
Class B
NUBE (X-41), Diego Zanco, CRO
BEWILD (Swan 42), Renzo Grottesi, ITA
SELENE ALIFAX (Swan 42), Massimo De Campo, NED
HORUS TEMPUS FUGIT (M45), Nadia Canalaz, ITA
DIGITAL BRAVO (Swan 42), Alberto Franchi, ITA
Class C
MUMMY ONE – LAB MET (Farr 30), Alessio Querin, ITA
SEASE (Farr 30), Giacomo e Franco Loro Piana, ITA
KATARIINA II (Arcona 340), Aivar Tuulberg, EST
HANSEN (X-37), Michael Mollmann, DEN
LOW NOISE II (Italia 9.98 F), Giuseppe Giuffrè, ITA