Ingemar technology and security at ORC Worlds Trieste 2017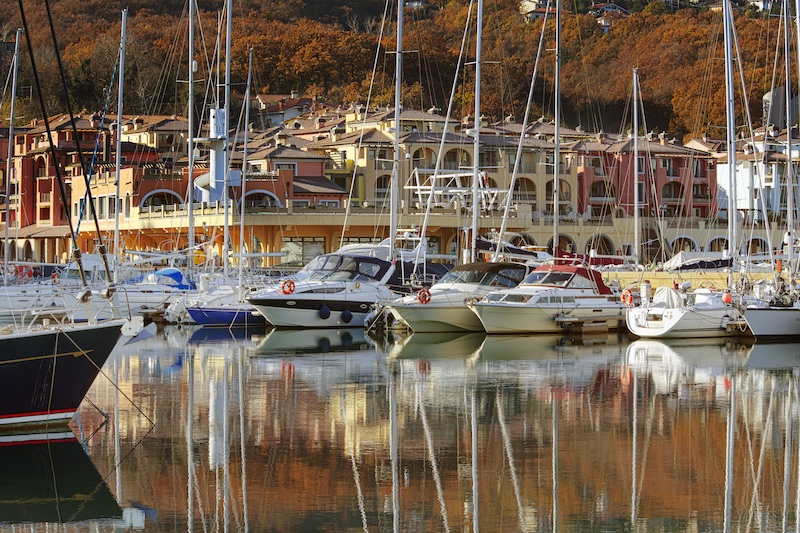 NEWS
27.05.2017
Ingemar, the Italian leader in design and production of floating marine structures and layout designs for marinas, is the official sponsor of the most important off-shore event of the international sailing calendar: ORC Worlds 2017, taking place in Porto San Rocco (Trieste) from 30 June to 8 July.
The relationship between Ingemar and Porto San Rocco goes back to the very beginning of what has become one of the major marinas in Italy on the Adriatic. It started in the late 1990s, during the engineering and construction phase of this new marina on the coast of Muggia, near the border with Slovenia.
Roberto Sponza, director of Porto San Rocco and President of the Yacht Club that carries the same name and organizer of the upcoming event, explains the reasons behind the partnership and the active role Ingemar will play at ORC Worlds Trieste 2017:
"Ingemar, more than a sponsor, is a fundamental presence at ORC Worlds 2017 that began producing remarkable results long before the events even begin.
Organizing a World Championship with nearly 130 top-level boats making their way into our waters means guaranteeing the highest level of safety for our guests no matter what the environmental conditions, both before and after the competition. This requires excellent safety standards and solutions for moorings. It is this element that distinguishes our marina and, thanks to Ingemar's marine solutions for Porto San Rocco, it was one of the decisive elements enabling us to organize and host ORC Worlds 2017, bringing this international event to Italy and to the Upper Adriatic for the first time ever.
Ingemar has been with us since the design stage of the marina. They were an obvious choice for us, given the range of innovative and avant-garde technical solutions the Italian company was able to offer, especially ad hoc solutions for any kind of weather condition, including difficult winds. They continue to outperform every possible alternative on the market and in other marinas.
The Bora wind in the Gulf of Trieste, and Muggia in particular, can put any mooring or floating structure to the test. With gusts sometimes exceeding 90 knots as they have in recent winters, we have never had any problems with guests in our Marina or with the Ingemar structures.
Because of the varying depths in our marina (4-17m) which allow us to accommodate any yacht, Ingemar provided a customized solution for our specific requirements, again providing us with absolute quality in terms of construction, safety and comfort.
The technical contribution was just as significant when we decided to add an openable bridge to the mouth of the historic dockyard to take advantage of the berths inside (and organize a J22 World Championship), or when Ingemar provided four beautiful launch slides to host the Primavela Cup last year in Trieste and Muggia.
We are therefore extremely pleased to count Ingemar, a company you can only find in the world's best marinas, among the names of those who have contributed and continue to play an important role in what we do and, at the same time, allow us to host races at the highest international level.
Ingemar, azienda italiana leader nella progettazione e produzione di strutture galleggianti per la nautica e nella ideazione e realizzazione di layout per spazi portuali e turistici, è official sponsor del più importante evento dedicato alla vela d'altura: l'ORC World Champioship 2017 in programma a Porto San Rocco (Trieste) dal 30 giugno al 8 luglio.
Il rapporto che lega Ingemar a Porto San Rocco è radicato nel tempo e appartiene al DNA stesso del marina triestino, uno dei più importanti dell'Adriatico e a livello nazionale. Il connubio tra le due realtà risale

alla fine

anni 90, periodo di ingegnerizzazione e costruzione degli spazi a mare sulla costa di Muggia in prossimità del confine italo sloveno.
Roberto Sponza, direttore di Porto San Rocco e Presidente dell'omonimo Yacht Club, organizzatore del prossimo evento iridato, spiega le ragioni della partnership e il ruolo attivo di Ingemar non solo nel prossimo Mondiale.
"Ingemar per noi è più di un semplice sponsor ed è per l'ORC Words 2017 una presenza determinante e fondamentale che, ancora prima dell'inizio dell'evento, ha dato rilevanti risultati.
Organizzare un Mondiale con quasi 130 imbarcazioni di primissimo livello che raggiungeranno i nostri campi di regata significa anche garantire a tutti gli ospiti della location ospitante la massima sicurezza in ogni condizione ambientale, sia prima che dopo la competizione. Ciò vuol dire dover disporre di standard di sicurezza e soluzioni riferite agli ormeggi di assoluta eccellenza e questo elemento, che caratterizza il nostro Marina grazie alle diverse soluzioni firmate Ingemar, è stato uno degli elementi determinanti che ci hanno permesso di affrontare convintamente la candidatura ad ospitare il Mondiale ORC 2017 e che ci hanno quindi fatto conquistare l'onore di riportare l'organizzazione di questo evento internazionale in Italia e per la prima volta in Alto Adriatico.
Ingemar è presente al nostro fianco sin dalle fasi di progettazione del Marina e ricordo che per noi questa fu una scelta convinta, a fronte delle soluzioni inedite e di avanguardia tecnica che l'azienda italiana ci propose. Soluzioni ad hoc per rispondere efficacemente a quelle che sono le possibili problematiche della zona riferite in particolare alle condizioni del vento. Risposte che nel tempo si sono dimostrate assolutamente vincenti e nettamente superiori a qualsiasi possibile alternativa tuttora sul mercato o adottate da altre località.
Il Golfo di Trieste e in particolare l'area di Muggia, in caso di venti di bora, possono mettere a durissima prova qualsiasi ormeggio e struttura galleggiante. Le raffiche fino a oltre 90 nodi che hanno soffiato sul nostro mare

in qualche inverno recente,

non hanno mai, in alcun modo, creato il ben che minimo problema né agli ospiti del nostro Marina né alle strutture Ingemar.
Altresì la diversa profondità dei fondali del nostro Marina (da 4 a 17 metri per poter accogliere qualsiasi yacht) ha obbligato Ingemar a proporre soluzioni del tutto inedite e personalizzate sulla nostre specifiche esigenze e, anche in questo caso, la risposta garantita dal nostro partner è stata di livello assoluto, sia in termini di qualità costruttiva che di sicurezza e confort.
Il contributo tecnico è stato altrettanto efficace quando abbiamo deciso di inserire un ponte apribile alla bocca dello storico bacino di carenaggio, per sfruttare i posti barca all'interno (e organizzare un Mondiale di J22), o quando Ingemar ci ha fornito quattro splendidi scivoli d'alaggio per ospitare a Trieste e Muggia la Coppa Primavela lo scorso anno.
Siamo pertanto estremamente soddisfatti di poter vantare e annoverare il nome di Ingemar, presente solo nelle migliori realtà di tutto il mondo, tra i nomi che hanno contribuito e contribuiscono alla migliore offerta da parte nostra e che al contempo ci permettono di realizzare regate al massimo livello internazionale.